Anniversary flowers: seasonal floral creations
Plan your birthday flower delivery now via our calendar!
Choosing a bouquet of anniversary flowers for delivery is a beautiful gift that will match the recipient's home. You'll find a variety of styles and sizes to choose from:
Birthday flower bouquets for delivery :
Our customer testimonials on over 3,500 bouquets delivered in Switzerland
on 500 verified customer reviews
What flowers to give for a birthday?
Celebrating a birthday is like immersing yourself in a whirlwind of joy, sharing and smiles. And what better way to add a natural, colorful touch to these moments than with a pretty bouquet of flowers? It's an attention-grabber that's always in vogue and always hits the mark. But with so many bouquet options to choose from, how do you choose the one that will make your loved one's heart skip a beat?
In fact, there's no such thing as a "how-to" guide; what's important is to know a little about the person you're giving to, and to go with what feels right to them! However, some flowers are particularly popular for birthdays.
Nothing says love and passion like a red rose. It's the perfect choice to show someone how special they are to you. But if you're in the mood for a little variety, why not opt for a bouquet of seasonal flowers? They change with the months, offering an ever-renewed palette of colors.
Our talented florists have concocted a whole range of bouquets especially for birthdays. From timeless red roses to more daring creations, there's something for everyone. But remember: no matter what the bouquet, it's the heart with which it's given that counts.
Giving flowers means sharing a piece of your heart and a moment of pure joy. And what better way to do it than with flowers?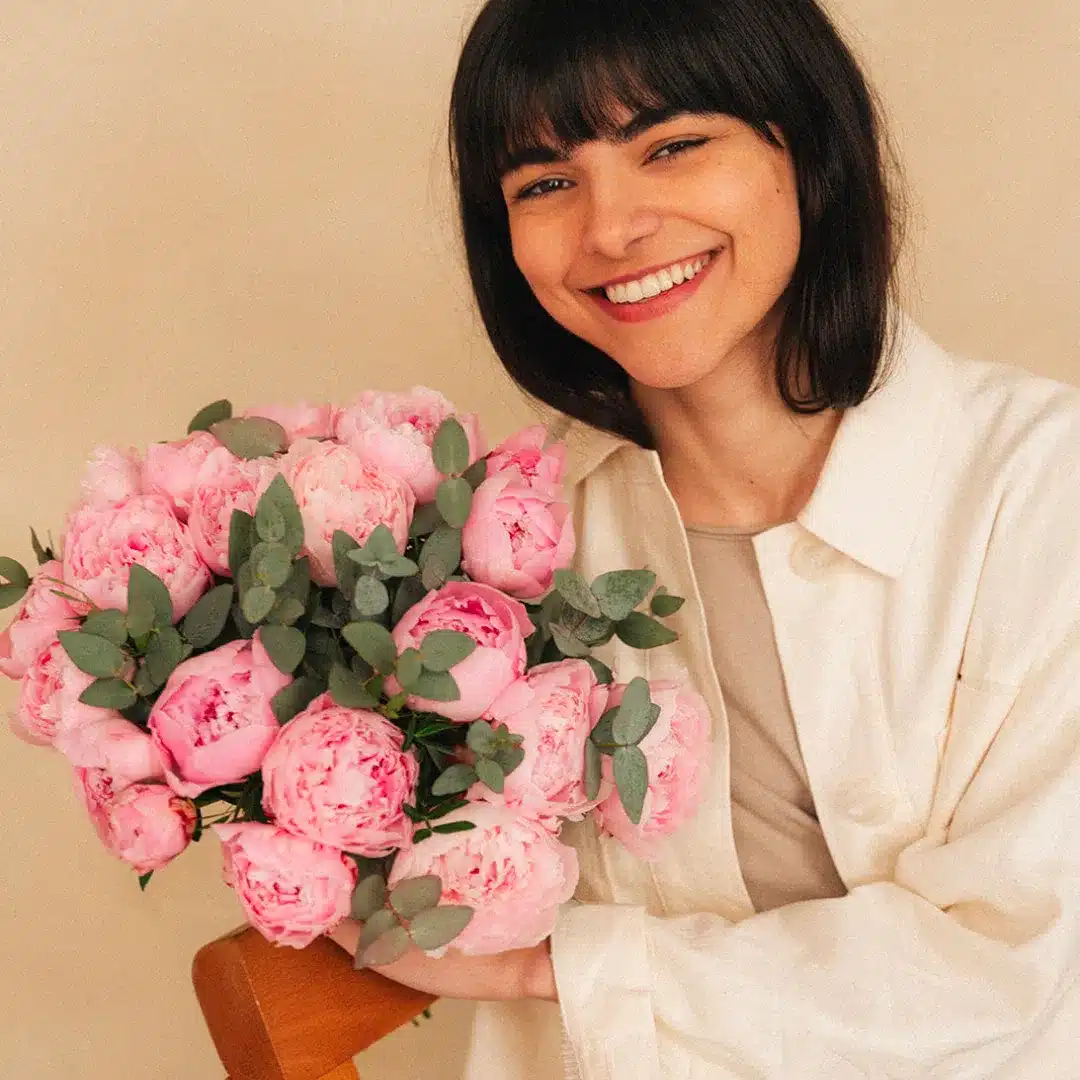 Which flower for which age?
Choosing the perfect bouquet for a birthday can depend on many factors, including the age of the recipient. Indeed, certain flowers may be more appropriate depending on the age or stage of life being celebrated.
For the little ones, opt for bright, cheerful flowers to brighten their day. An armful of roses in different colors, or bouquets of seasonal flowers in various shades, can be an ideal choice. Original, contemporary bouquets, such as an armful of soft pink roses or a combination of freshly picked flowers, are always popular with this generation.
And for those milestone anniversaries, like turning 30 or 40, why not take elegance up a notch? A bouquet of red roses, evocative of love and passion, is sure to dazzle and touch the heart. You can also think of a more unique floral arrangement with less common plants and flowers.
For more advanced anniversaries, classic, timeless bouquets are always a safe choice. A bouquet of roses, for example, is a traditional option that never fails to please. Seasonal flowers, chosen by our florists for their freshness and beauty, can also be an excellent choice.
Remember, though, that the perfect bouquet is the one that best suits the recipient's taste. Whatever their age, make sure you choose flowers that will please them and brighten their day. And thanks to our birthday flower delivery service, you can order and have the bouquet of your choice delivered straight to their door, for an unforgettable surprise.
What's the right word for flowers?
The gift of flowers for a birthday is often accompanied bya thoughtful message that adds a personal touch to the gift. Whether it's a bouquet of red roses, an armful of pink roses or a bouquet of dried flowers, the right note can make the gesture even more memorable.
To wish a happy birthday, it could be as simple as "Happy birthday! May this new year be filled with happiness and fresh flowers." or "A bouquet to celebrate your special day, happy birthday!"
If the bouquet is for a loved one, a more personal message may be appropriate: "On this special day, I wanted to give you something as beautiful as you are. Happy birthday!"
For a friend, a touch of humor can brighten their day: "A year older, but you're still as fresh as these flowers. Happy birthday!"
If you're short of ideas, our florists can help you find the right words to accompany your birthday bouquet. And with our birthday flower delivery service, you can be sure that your message and bouquet will arrive at their destination on time, for an unforgettable surprise.
Remember, the choice of words is just as important as the choice of bouquet. Whether you opt for roses, seasonal flowers or a unique floral arrangement, make sure your message expresses your heartfelt feelings.
How can I have flowers delivered for a birthday?
Giving flowers for a birthday is a cherished tradition that has taken on a new twist with the convenience of online ordering. Whether you want to send a bouquet of red roses or an armful of roses, the process is simple and convenient with our flower delivery service available for birthdays.
Start by taking a look at our collection of special birthday bouquets. From seasonal flowers to roses and other floral creations lovingly crafted by our florists, there's something for every taste and budget. Take the time to find the bouquet that will speak to your heart and please its recipient.
Once you've made your choice, the next step is to place your order. Simply fill in the delivery details, and if you're a last-minute kind of person, we also offer express delivery to make sure your gift arrives just in time.
To make your surprise even more memorable, slip in a message wishing you a happy birthday. Whether written on a pretty ribbon or a card, they'll add that personal touch that makes all the difference.
Then pay for your order in complete peace of mind - everything is secure. Once that's done, we take care of the rest: confirmation, scheduled delivery as desired, and above all, the guarantee of a fresh bouquet that will dazzle.
So what are you waiting for? Delight someone today with a flowery surprise, wherever they are!
Useful details about our terms and conditions and the delivery of our flowers for a birthday party
Ordering flowers for a birthday is both a generous and thoughtful gesture. To make sure your surprise is perfect, here are a few details about our terms of sale and delivery service.
Each bouquet we offer is a unique composition created by our artisan florists. They use the finest seasonal flowers, guaranteeing fresh, high-quality bouquets. Tones and compositions may vary slightly, depending on the flowers available at the time of your order. Each bouquet is a gift in itself, made with love and professionalism.
Our prices are transparent and inclusive. When you choose your bouquet, the price displayed includes bouquet making, preparation costs and delivery service. There are no nasty surprises here: the price you see is what you pay, period.
What about delivery? We'll make sure your birthday bouquet arrives just in time for the party, fresh and beautiful. We even have an express service for those of you in a hurry. And if you order before our cut-off time, we can even arrange for your flowers to arrive the same day.
Do you have any questions, or are you a little confused about what to choose? Don't worry, we're here to guide you. Explore our beautiful bouquets or contact us, we're here to help. Giving flowers is like giving a piece of love and gratitude. So treat yourself and someone else!
Anniversary flowers