Mother's Day Flower Delivery : Our Selection
On Mother's Day, schedule your flower delivery now via our calendar!
CANTON DE GENÈVE : Delivery on Saturday and Sunday from 8am to 8pm or Click & Collect at our workshop.
EVERYWHERE IN SWITZERLAND: Delivery only on Saturday from 8am to 8pm.
Pre-order now! Limited quantity in stock according to our daily arrivals.
Choose the most beautiful gift
for your beloved mother!
First delivery possible for Saturday May 13 and Sunday May 14, plan your subscription now.
Our customer testimonials on over 3,500 bouquets delivered in Switzerland
on 500 verified customer reviews
Kanel offers you a delivery of seasonal bouquets, for a unique pleasure or thanks to our subscription to the address of your choice, in one click. Colors, scents, harmony: our florists create for you modern, sustainable, responsible and especially beautiful flower arrangements. Receive your flower delivery in the same day in Geneva, thanks to our super cargo bikes, and from the next day, receive your fresh or dried flowers in Lausanne, Yverdon, Nyon, in the Valais or the Vaud canton without forgetting Zurich and Fribourg, in short everywhere in Switzerland.
It's the promise of beautiful emotions delivered on your doorstep!
Psssst... Don't forget, our collection of available flowers is renewed according to the seasons!
What flowers to give on Mother's Day?
In Switzerland too, Mother's Day is a special occasion to celebrate and thank our mother. With a beautiful delivery of fragrant flowers like the ones Kanel website offers, we are sure to make your mother happy. In this article, you will see and discover our Mother's Day flower bouquets and how to choose them for a perfect gift. Your mother or grandmother will be happy to receive a nice bouquet of flowers from you!
The origins of Mother's Day
Mother's Day has its origins in antiquity and has evolved over time to become what it is today. The Romans and Greeks dedicated this day to their maternal deities: Cybele, Artemis or Hera. Today, this tradition of sending a bouquet in honor of mothers continues throughout the world with different dates in different countries. In France, Mother's Day is celebrated on the last Sunday of May or the first Sunday of June if Pentecost falls on the last Sunday of May.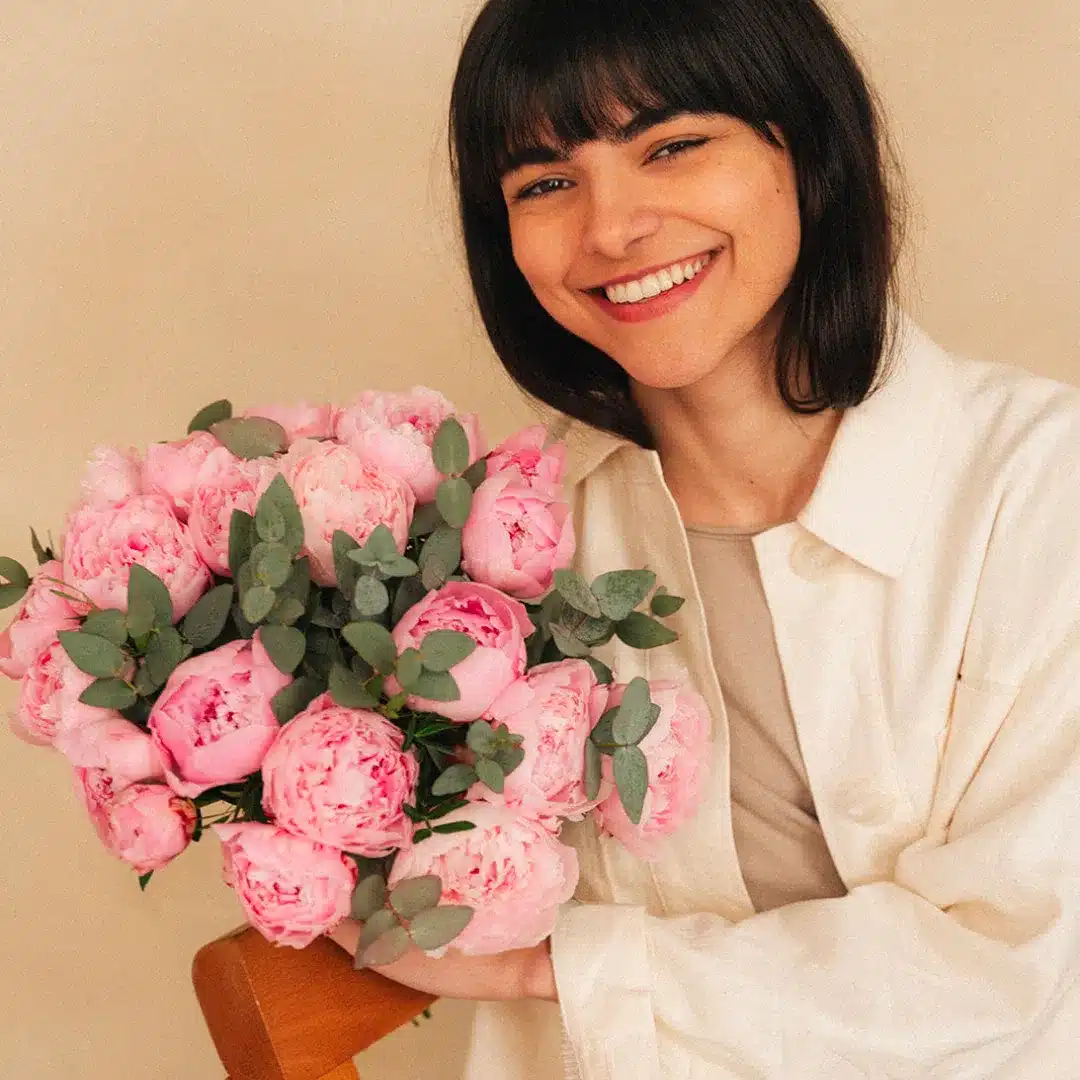 What is the link between Father's Day and Mother's Day?
Father's Day and Mother's Day are two distinct celebrations, but what they have in common is that they honor parents. These two special days are dedicated to expressing love, respect and gratitude to parents, for the essential role they play in our lives.
Mother's Day is usually celebrated first, on the second Sunday in May in many countries, including the USA. It's an opportunity to pay tribute to mothers and their role in family and society.
Father's Day, celebrated on the third Sunday in June in many countries, including the United States, is an opportunity to do the same for fathers. The idea for Father's Day was inspired by Mother's Day; indeed, Sonora Smart Dodd, who is considered the founder of Father's Day in the United States, proposed the idea after attending a Mother's Day celebration in 1909.
Although the two days are celebrated differently in different cultures and families, they share the same purpose: to show love and appreciation to our parents. In many cultures, it's common to give gifts, write cards and spend time together as a family to celebrate these days.
The language of flowers
Here are some ideas of pretty flowers to give to you moms on this holiday. Giving flowers to your mom is a beautiful way to express your love, tenderness and gratitude. Depending on the color, tones and variety of flowers, they can convey different messages. Here are some examples:
Red: love and passion.
Pink : affection and softness.
White: purity and innocence.
Yellow: friendship and joy.
In addition to the colors, it is also possible to choose a flower according to its symbolism:
Rose: love and beauty.
Azalea : joy and happiness.
Hibiscus : charm and seduction.
Begonia: cordiality and friendship.
Olivier : peace and wisdom.
The perfect flowers for Mother's Day
The rose tree
The rose is a symbol of tenderness and affection. Giving a rose in a vase or roses to your mother is a safe choice to show your feelings. There are many varieties of roses with different sizes, shapes and shades. You can choose a bouquet of white, pink or red roses, or better yet, choose a potted rose that will continue to bloom year after year.
Azalea
This flowering plant is native to Asia and symbolizes joy and happiness. The azalea is a great option to brighten up your mother's day while adding a touch of color to her home. It is suitable for both indoor and outdoor use, so it can be given as a gift in a pot or planter.
Hibiscus
Hibiscus is a tropical plant that evokes exoticism and vacations. Its large colorful flowers will bring cheerfulness and charm to your mother. Moreover, hibiscus is known for its medicinal properties and can be used in infusion to relax.
Begonia
The begonia is a very popular houseplant for its abundant and long-lasting bloom. There are many varieties of begonias with different colors and shapes. Giving a begonia to your mother symbolizes cordiality and friendship, which makes it an ideal gift.
The olive tree
Symbol of peace and wisdom, the olive tree is a fruit tree that will easily find its place in the garden or on the terrace. By offering an olive tree to your mother, you wish her a peaceful and serene life. Moreover, she will be able to take advantage of the olives and their oil to cook delicious dishes.
Otherwise, as other alternative options to this list of bouquets to give to your moms, you also have the possibility to give peonies, tulips, orchids, lilies or hydrangeas to your mom.
How to choose flowers for Mother's Day
To make the right choice of flower bouquets with the florists of your choice, it is important to consider your mom's preferences. You can ask about her taste in plants and flowers, as well as the colors she likes. Also, choose a plant or flowers based on the space she has at home: garden, balcony, indoor. It would be a shame to give a gift for this holiday with a green plant that is too large or flowers that she doesn't like.
Finally, don't forget to take care of the flowers and their stems before sending them to your moms. As with any gift, a healthy bouquet of flowers or plant with careful packaging will always please your mom. If you are in doubt, don't hesitate to ask for advice from a florist who will be able to guide you towards the type of bouquet you should send for such an occasion.
Giving flowers as gifts on Mother's Day is a tradition that has endured since antiquity and has been passed down through the ages. The language of flowers can convey messages of love and affection while adding a touch of beauty and color to our mothers' lives. Whether it is a large rose, an azalea, a hibiscus, a begonia or an olive tree, each flower has its own symbolism that will delight your mother's heart on this special day.
Thanks to the collection of creations on our online store, your order will be processed as quickly as possible every time, regardless of the season. You can also add a message to the floral arrangements you order for your recipient: a few tender words or an extra box of chocolates will bring your mother a little more happiness. This attention to detail can make all the difference.
Useful information about our conditions and the delivery of our flowers on Mother's Day
To conclude with Mother's Day Flower Delivery - Please note that the products and packaging of our flowers and green plants for sale on Kanel.ch are environmentally friendly: they are fair trade. Please also bear in mind that Mother's Day is one of the most important holidays for the flower industry: place your order for your flower arrangement in advance so that our delivery service can deliver your flowers on time.
Finally, if you would like to have flowers delivered for other occasions (birthday, wedding, bereavement, anniversary, etc.), we also offer floral arrangements for this purpose. Discover them in our other categories. In case of questions or for more information on our pricing policy (our Mother's Day flower bouquets start at CHF 64.90), we invite our customers to contact us by phone or email.
Mother's Day Flower Delivery