Hospital flower delivery: offer a bouquet of comfort
Plan your flower delivery now with our calendar!
Delivering flowers to the hospital is a touching gesture to support a hospitalized person.
Giving a bouquet or floral arrangement can bring comfort and cheer to a patient's room.
However, there are certain precautions to take and the right flowers to choose from to make the gift perfect.
Our selection of flowers for delivery within 24 hours:
Our customer testimonials on over 3,500 bouquets delivered in Switzerland
on 500 verified customer reviews
Which bouquet to choose for a hospitalized patient?
Choosing a bouquet for someone in hospital may seem tricky, but there are a few things to keep in mind. The choice of flowers should take into account the environment of the hospital room, the person's character and the meaning you want to convey.
Opt for flowers that are not overly scented, as some people can be sensitive to strong perfumes, especially in a hospital environment. In addition, some hospitals have restrictions on the type of plants that can be brought in due to allergy risks.
Choose flowers with a longer lifespan so that the patient can enjoy your gesture for a longer period. Flowers such as orchids, gerberas and lilies are not only long-lasting, but also aesthetically pleasing.
Make sure the flowers you choose are appropriate for the situation. Brighter, more cheerful colors can help improve a patient's mood, while softer tones can offer a sense of calm and serenity. Also consider the message you want to convey. For example, daisies can symbolize hope and healing, while roses can be used to express love and support.
In any case, the important thing is to show that you care and are there to support the person during their convalescence. A well-chosen bouquet of flowers can go a long way towards brightening a hospitalized person's day.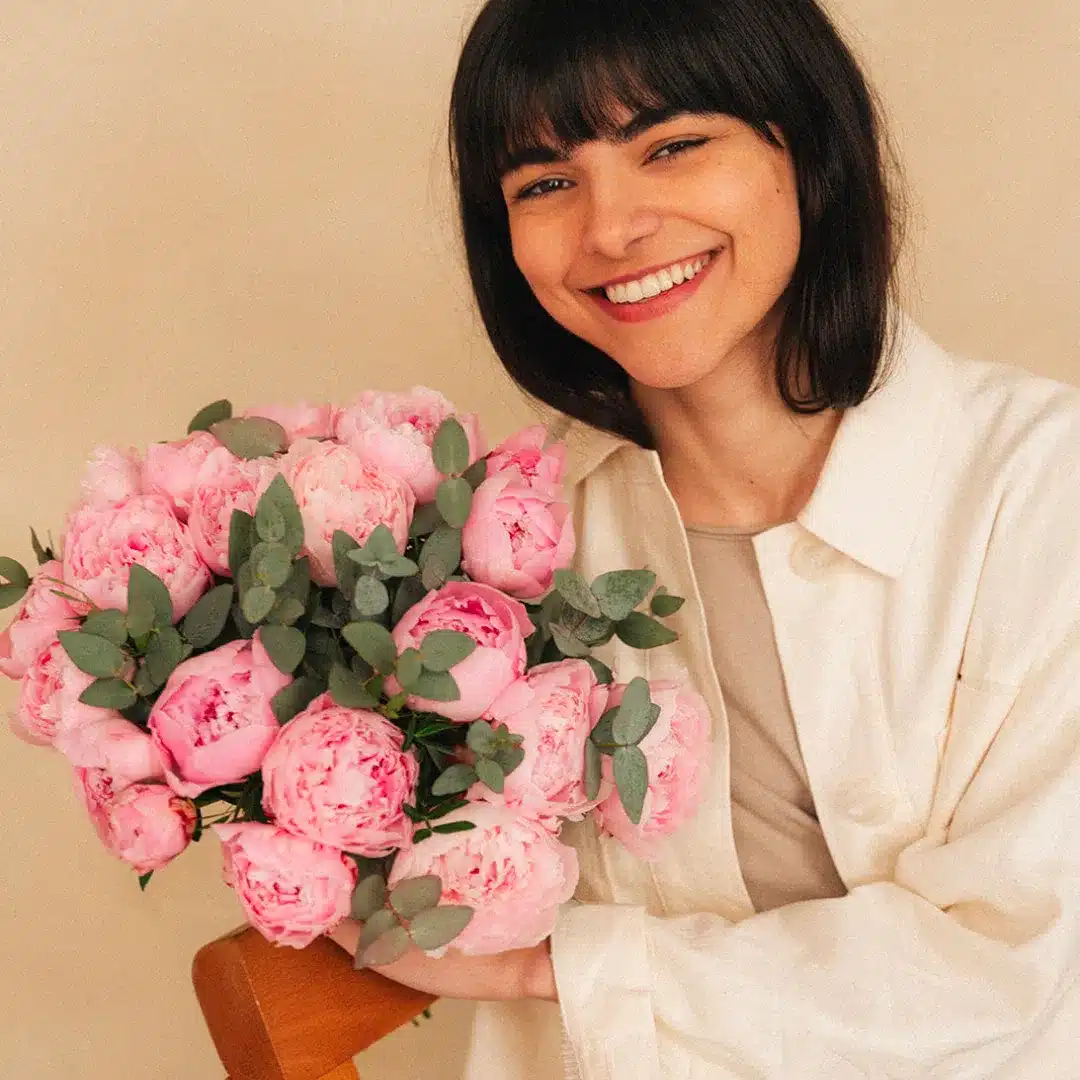 Ideas of flowers to offer for a patient :
The choice of flowers to give to a hospitalized patient depends on a number of factors, including the patient's personal preferences, the message you wish to convey and any hospital restrictions.
Here are some flower ideas you might consider:
Orchids: These elegant, long-lasting flowers are an ideal choice for hospitals. They lack a strong fragrance, require little maintenance and can survive for several weeks.

Gerberas: Known for their bright colors and long life, gerberas are a great way to bring joy and cheer to a hospital room.

Lilies: With their refined appearance and delicate colors, lilies are an elegant way to show your support for someone in hospital.

Daisies: Symbolizing innocence and hope, these simple but beautiful flowers can bring a note of optimism to someone in recovery.

Roses: Traditionally associated with love and friendship, roses can be an appropriate choice to express your support for a hospitalized loved one. However, be sure to choose unscented roses to avoid allergy-related discomfort.

Sunflowers: These sunny flowers symbolize joy, optimism and good health. Their presence in a hospital room can be a real ray of sunshine for the patient.
Remember, the bouquet you choose should above all be a symbol of your thoughts and support for the patient.
A unique gift: a bouquet of flowers
In the sometimes sterile and impersonal environment of a hospital, a bouquet of flowers can bring a touch of color, energy and life. It's a simple and effective way of showing your support and concern for the person in hospital.
Each bouquet is unique, reflecting your feelings and care for the patient. Whether you opt for bright colors to boost morale or softer hues to bring serenity, each bouquet is a gift that will touch the heart of the person receiving it.
.
A vase to brighten up the patient's room
Offering a vase with the bouquet of flowers is an excellent idea. Not only does it make the flowers easier to care for, but an elegant vase can also help brighten up the hospital room and make the environment warmer and more welcoming.
There are many types of vase to choose from, from the simplest to the most sophisticated. Some vases can even be reused once the flowers have faded, offering a lasting reminder of your thoughtful gesture.
When choosing a vase, make sure it's practical and secure, with no sharp edges or fragile parts that could break easily. Remember, the aim is to make the patient's room more beautiful and comfortable, without adding stress or strain.
What's the right word for someone in hospital?
Beyond the bouquet of flowers, the words you choose to express your support for someone in hospital are just as important. Here are a few suggestions to help you find the right words:
Messages of comfort: "I'm thinking of you and sending you lots of good vibes to make you feel better. Take care of yourself."

Words of encouragement : "Hang in there and keep your chin up. You're stronger than you think and you'll get through this."

Expressions of friendship or love: "Just a note to tell you how much you mean to me. I'm with you through this."

Words of hope: "Every day is a new opportunity for healing. Keep hope, we're by your side."

Suggestions for help: "Don't hesitate to ask me if you need anything. I'm here to help."
A sincere, thoughtful word can make a big difference to a hospitalized person's state of mind. Make sure your message is positive, encouraging and empathetic. Your support will help the patient feel less alone and more able to face the challenges of recovery.
How do you deliver flowers to a hospital?
Delivering flowers to a hospital needs to be carried out with care and attention. To ensure that the process runs smoothly, it's important to take certain considerations into account:
Hospital restrictions: Some hospitals or care units may have restrictions on the types of flowers or plants allowed, notably because of allergy risks. So it's always best to check hospital rules before sending a bouquet.
Delivery information: For efficient delivery, make sure you have all the necessary information, including the patient's full name, room number and hospital name.
Timing: Flowers need to be delivered at an opportune moment. It may be best to have them delivered early in the day, when the patient is more likely to be in his or her room.
Our terms of delivery
We strive to offer a hospital flower delivery service that is both reliable and flexible. To ensure the best possible experience, we work closely with the hospital and follow all their delivery guidelines.
We also offer same-day delivery options, so you can send a bouquet of flowers even at the last minute. To guarantee this service, be sure to place your order before a certain time.
Our aim is to make the delivery process as easy as possible for you, while ensuring that your gesture reaches your loved one in the best possible conditions. We're here to help you express your support in a meaningful and memorable way.
Flower delivery to hospital