Your kiosk / flower store by KANEL
Discover our very FIRST kiosk/flower store at La Clinique Générale-Beaulieu in Geneva!
With a carefully selected selection of seasonal flower bouquets presented in a water bubble, this boutique/kiosk will bring a touch of cheer and color to your visit.
Take advantage of our flexible service: you can collect your flowers from the boutique or opt for our flower delivery service. Simply reserve your bouquet for pick-up or delivery directly to a room in the clinic.
Call us on +41 78 243 18 69 / +41 76 262 15 27 to place your order.
Enjoy a unique floral experience in the heart of this wonderful establishment. We look forward to serving you. The first flower kiosk by kanel at the entrance to the clinique générale-beaulieu Self-service seasonal bouquets
Freshness guaranteed, water bubble treated SEASONAL FLOWER KIOSK/BOUTIQUE
The first flower kiosk/boutique at Clinique Générale-Beaulieu!
Discover our KANEL kiosk/flower boutique at Clinique Générale-Beaulieu, specifically designed to turn your flower purchase into a pleasant, effortless experience.
This all-new kiosk is a practical solution that transforms the act of shopping into a pleasant and easy experience.
Imagine being able to choose and offer a bouquet of fresh flowers in a matter of moments, right at the entrance to your healthcare facility, and brighten the day of a loved one staying at the clinic. Nothing could be simpler
Carefully stocked with a varied selection of bouquets, designed by our talented florists. Whether you're celebrating a birth, wishing a speedy recovery or simply expressing your affection, our range of floral arrangements will suit all your special occasions.
Pay by credit card, TWINT or cash at reception
Choose your bouquet
Pay by credit card, TWINT or cash at reception
Enjoy your flowers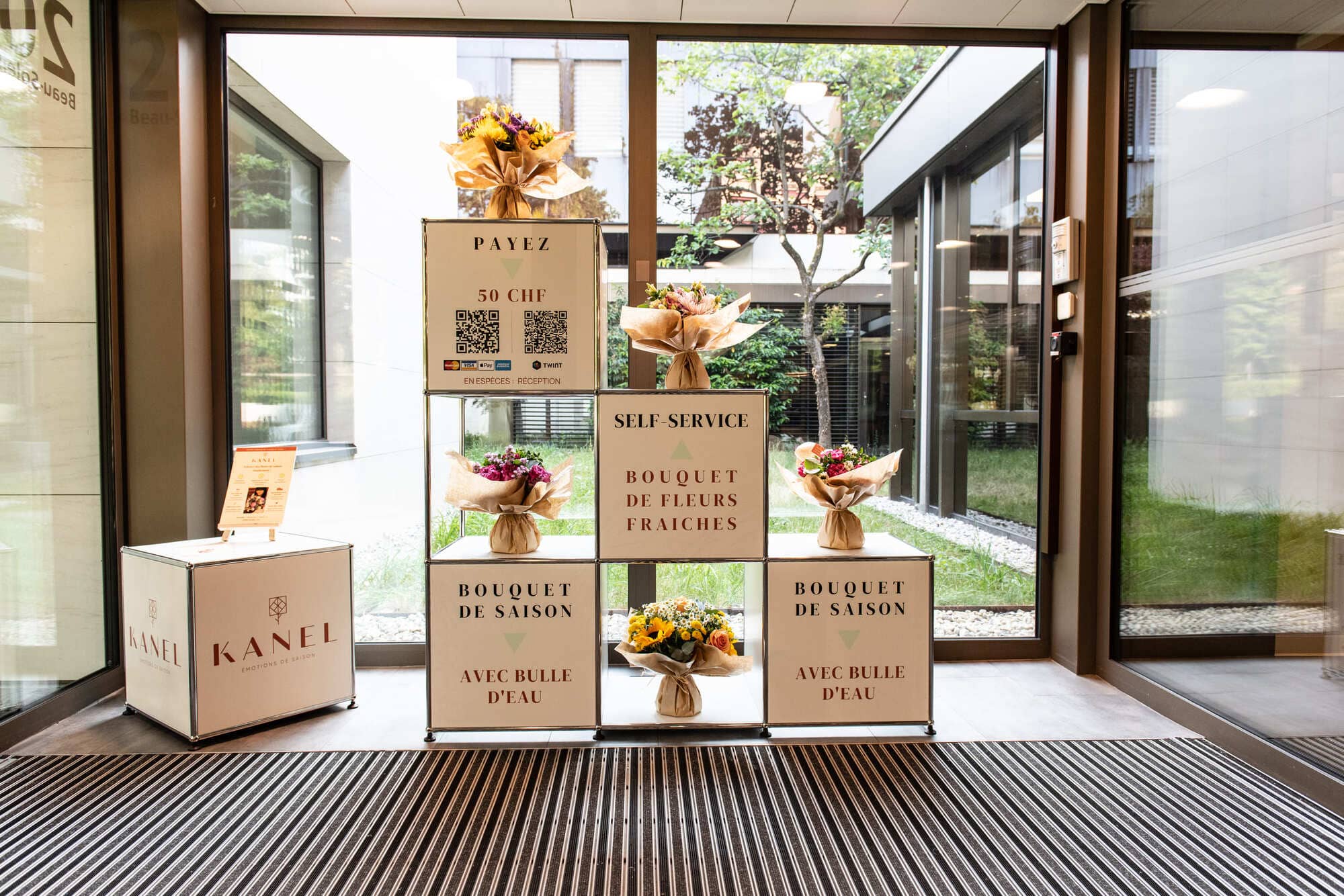 Buy flowers the easy way!
It's child's play! Browse our kiosk/shop to choose the bouquet that's right for you from a multitude of options. Whether your heart is set on a cheerful, colorful floral arrangement or a refined, elegant composition, you're sure to find what you're looking for!
Continue by paying for your chosen bouquet. You can do this at the clinic reception, where payment by TWINT, credit card or cash is accepted. The price of each bouquet, displayed in CHF, is clearly indicated to make your choice easier.
Once you've made your payment, it's done! You can enjoy your bouquet immediately, or give it as a gift to a loved one at the clinic. Our bouquets are carefully crafted by our florists, ready to be admired and requiring no maintenance. They are presented in treated water bubbles, guaranteeing the freshness and longevity of the flowers, so you can enjoy them straight after purchase.
Treat your loved ones to a gift that will bring a smile to their face, by choosing from our magnificent floral creations.
Giving the gift of floral bliss has never been so accessible!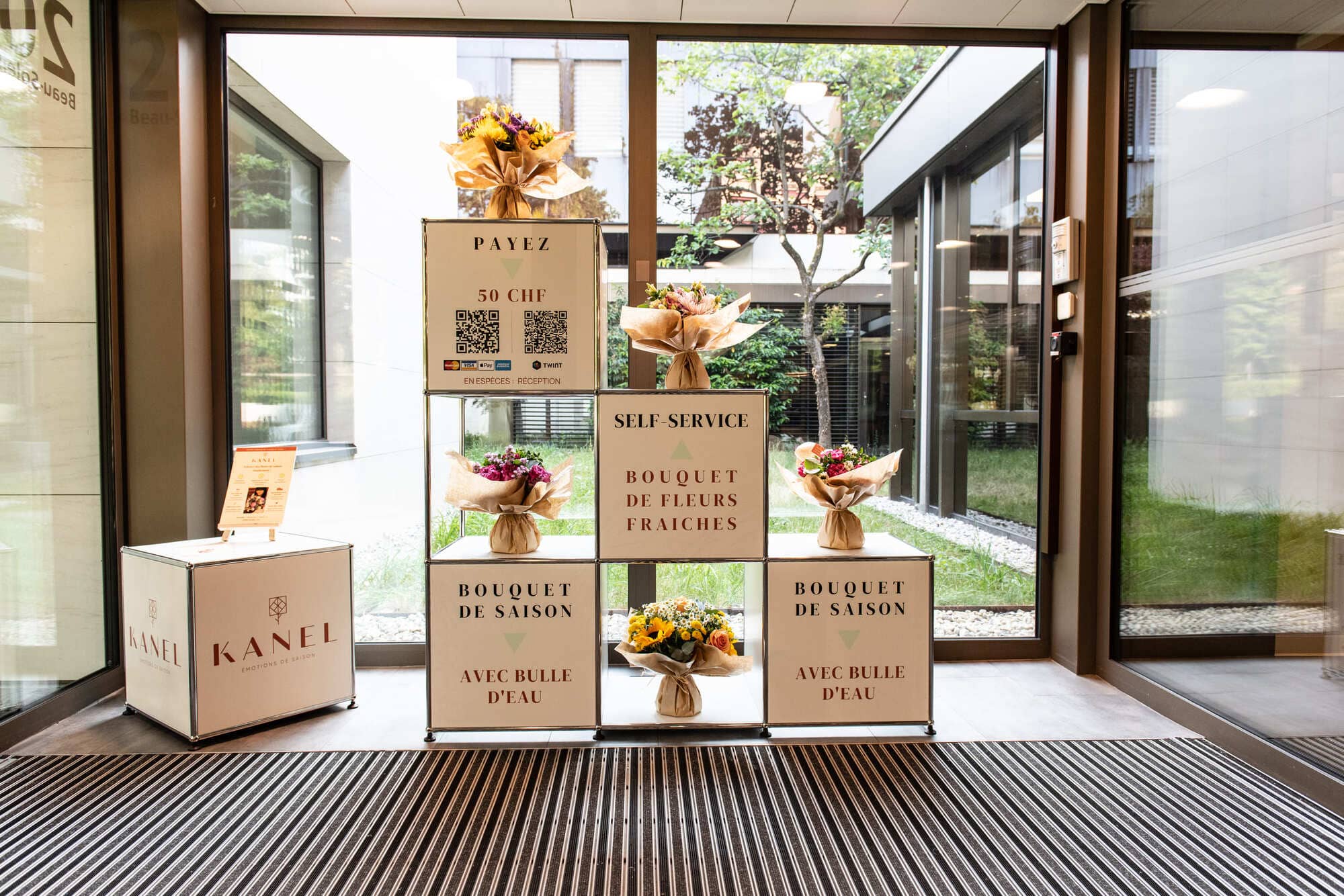 See our beautiful creations here!
THE FIRST FLOWER KIOSK BY KANEL
At the entrance to Clinique Générale-Beaulieu
20 Chemin de Beau-Soleil 20
1206 Genève
It is also possible to reserve your bouquet of flowers remotely, and have it delivered directly
to a patient's room. To reserve, call +41 78 243 18 69 / +41 76 262 15 27.
Want to send flowers every month?
Every month, we create a new bouquet with a unique arrangement. A floral subscription to give as a gift.
Did you know that being around flowers makes us feel happy? Flowers are a concentration of life. A small, everyday pleasure with big advantages for our health. Studies prove that receiving a bouquet of flowers makes us happy - they're happiness on a stem. So, why wouldn't you? Let your joy flourish: order flowers every month in a few clicks. Dare to treat yourself!
An overview of what you can find in our shop/kiosk

An overview of what you can find in our shop/kiosk