Flower delivery in the canton of Geneva
With KANEL, having fresh flowers delivered in a few hours in the canton of Geneva has never been so fast and easy. Want to remind your loved ones that they are important to you? Need flowers delivered within the day for a special occasion such as a birthday, anniversary or to celebrate a special date in your eyes? Whether they live in Geneva, Vernier, Lancy or even Cologny, Onex or Vandoeuvres, surprise someone dear to your heart with the most beautiful surprise: a bouquet of seasonal flowers delivered directly to their door. Select the creation that resembles her, add a vase to serve as a case and our teams will take care of delivering your present in record time and in complete safety for the flowers.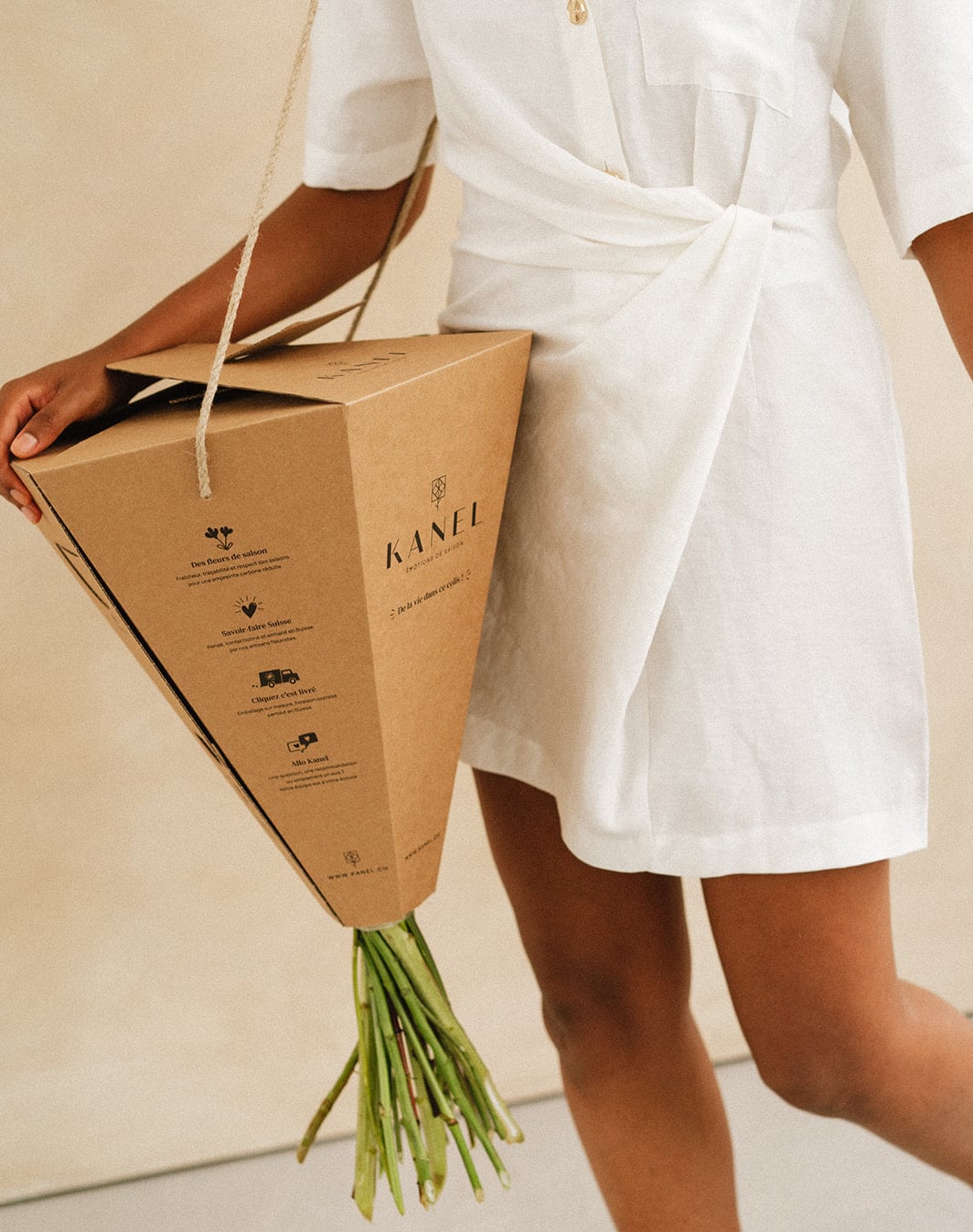 YOUR ARTISAN FLORIST KANEL
Specialist of fresh flowers delivery in the canton of Geneva
If there is one word that defines the work of our team of artisans it is freshness! Indeed, thanks to our local producers , we select flowers directly in short circuit. Once picked, they are immediately entrusted to the expert hands of our florists who make unique creations with love.
Once the bouquet is composed, it is placed in a specially designed packaging to protect it. The result of a collaboration with our Swiss partner, our cardboard packaging guarantees maximum protection for the stems, petals and leaves of the flowers that are the precious ingredients of our unique creations.
Finally, our location in the heart of the canton of Geneva allows us todeliver the bouquet of your choice to your loved ones inless than 3 hours.
Thanks to our fleet of cargo bikes, we guarantee a fast and ecological delivery so that the bouquet you have chosen arrives safely at its destination.
Freshness, know-how and ecology are the key words of our teams' work process, from the selection of fresh flowers from our local producers to the delivery by cargo bike in the canton of Geneva.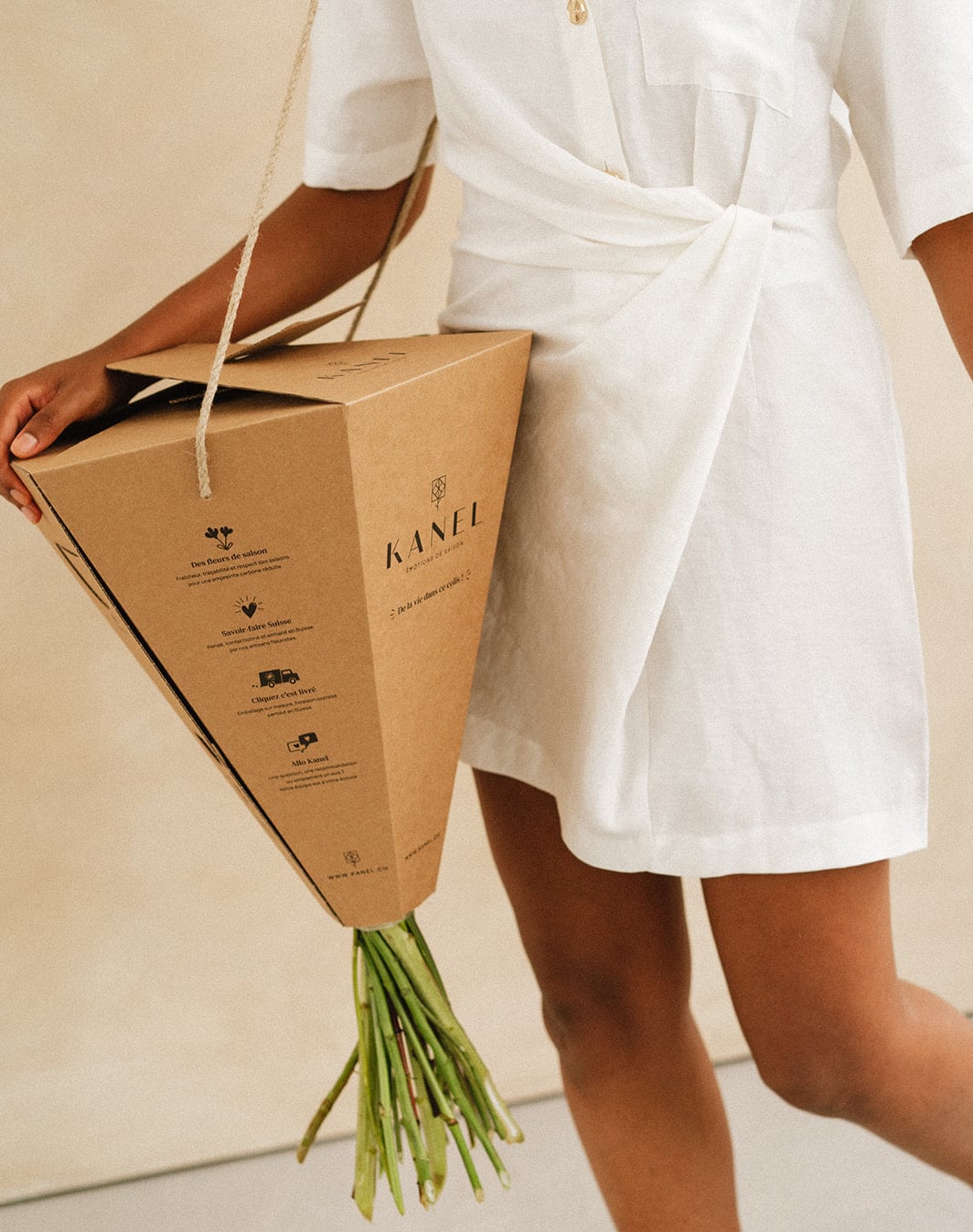 How to have a bouquet of fresh flowers delivered in the Canton of Geneva today?
To receive your flowers the same day in Geneva, all you have to do is order them before 1pm! Our team will create a superb floral arrangement for you and our delivery service will take care of delivering it to its recipient in the afternoon.
You want to surprise a loved one and plan a flower delivery in the Canton of Geneva in the next few days?
With our unique service you can plan your flower delivery in Geneva and everywhere in Switzerland up to 15 days in advance.
In the canton of Geneva, we ensure delivery in the afternoon!


The commitments of your florist KANEL
Pluck fresh flowers in harmony with the seasons
Our bouquets are composed of European flowers that grow near you. A sustainable and ecological offer in accordance with the seasons!
Partner with expert Swiss craftsmanship
Kanel is a Swiss born and grown company. We promote local craftsmanship and boost the Swiss economy.
Disrupt the traditional flower industry
With the order of your flowers in one click and their express delivery (everywhere in Switzerland) and the delivery of flowers in Geneva by cargo bike, in a customized packaging, we innovate!
Being a local and responsible responsible!

Nature is at the heart of our trade. To preserve it, we are committed to sustainable consumption. For a greener future.
 Pluck fresh flowers in harmony with the seasons
Partner with expert Swiss craftsmanship
Disrupt the traditional flower industry
Be a local and responsible company!
Freshness, traceability and respect for the seasons for a reduced carbon footprint.
Designed, produced and packed in Switzerland by our florists.
Customised packaging and express delivery within 24 hours anywhere in Switzerland.
A question, a recommendation or simply an opinion? Our team is at your disposal.